Accessing Social Services and Education in a Digital World
POWERFUL VOICES DISCUSS THE REALITIES OF ACCESSING SOCIAL SERVICES IN A DIGITAL WORLD, AT ATD FOURTH WORLD's SIDE EVENT DURING THE 59TH SESSION OF THE UN COMMISSION FOR SOCIAL DEVELOPMENT
In February 2021, the 59th session of the UN Commission for Social Development addressed the theme of a "Socially just transition towards sustainable development: the role of digital technologies on social development and well-being of all." This year of transition to digital learning, working, and interacting paired with existing digitalization of social protection systems over recent decades, made addressing the theme all the more relevant and timely.
Aligned with the Commission's theme, the International Movement ATD Fourth World hosted a virtual side-event to the Commission, Behind the Screen: Grassroots Experiences Accessing Social Services and Education in a Digital World, specifically looking at the experiences of individuals and families living in poverty.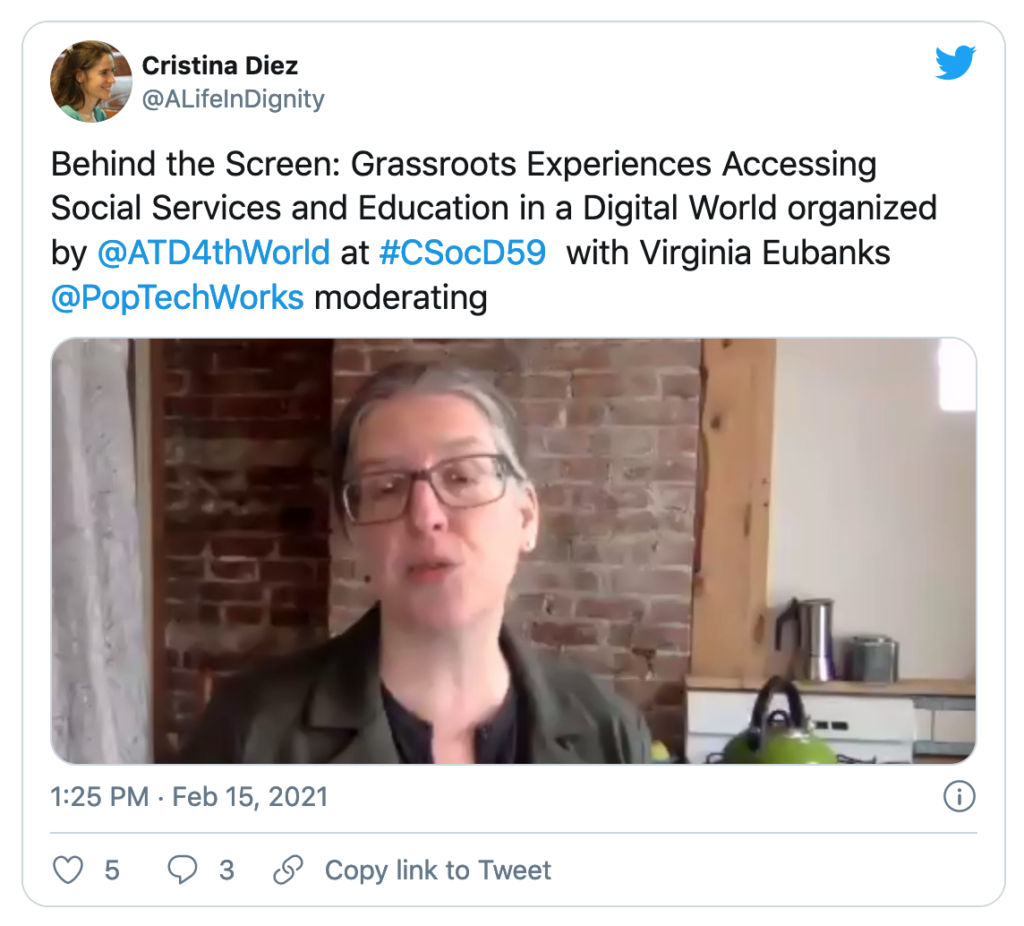 After an introduction of Virginia Eubanks' academic experiences at the intersection of digital technology and social well-being, Esther began the afternoon with an insightful video presentation of her experiences supporting the online learning of her three grandchildren.
Esther shared the obstacles the children faced, lacking personalized attention in the online classroom in addition to technical difficulties and cost barriers to digital devices and internet access. In spite of these challenges, Esther remained steadfast in her belief that the strength of family ties would help them through. Additionally, she continues to proudly support advocacy in her community.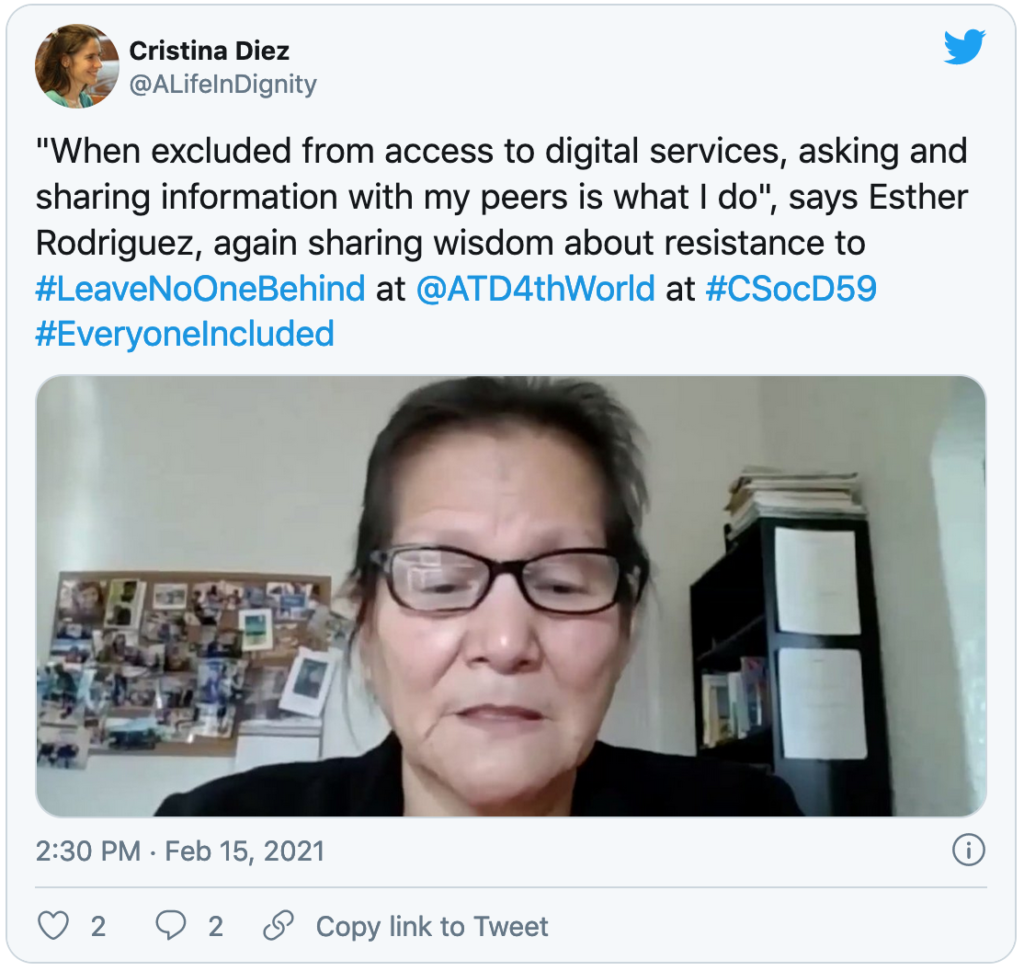 Tammy Mayes, an activist from ATD UK, followed with a critical message about the inhumane treatment families endure with the online UK Family Court System—instated due to Covid-19 measures. As one of the PFAN (Parent Families and Allies Network) parent activists carrying out research, Tammy shared some of the families' stories. She cited how many families felt their online court hearings were unjust, lacking the personal and humane connection essential to such intimate proceedings.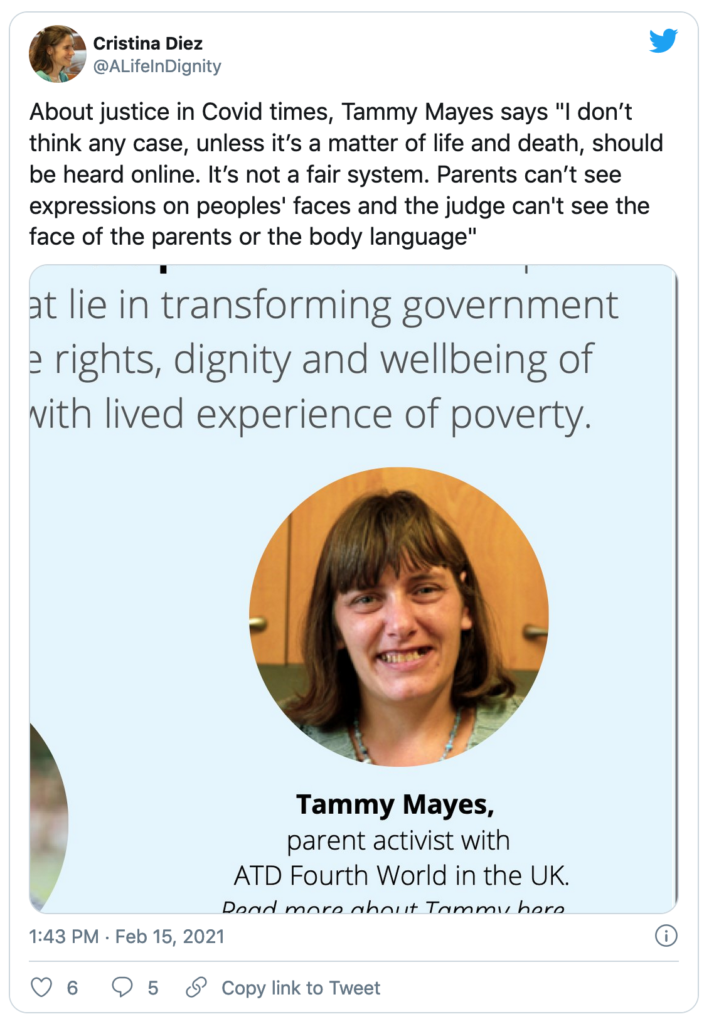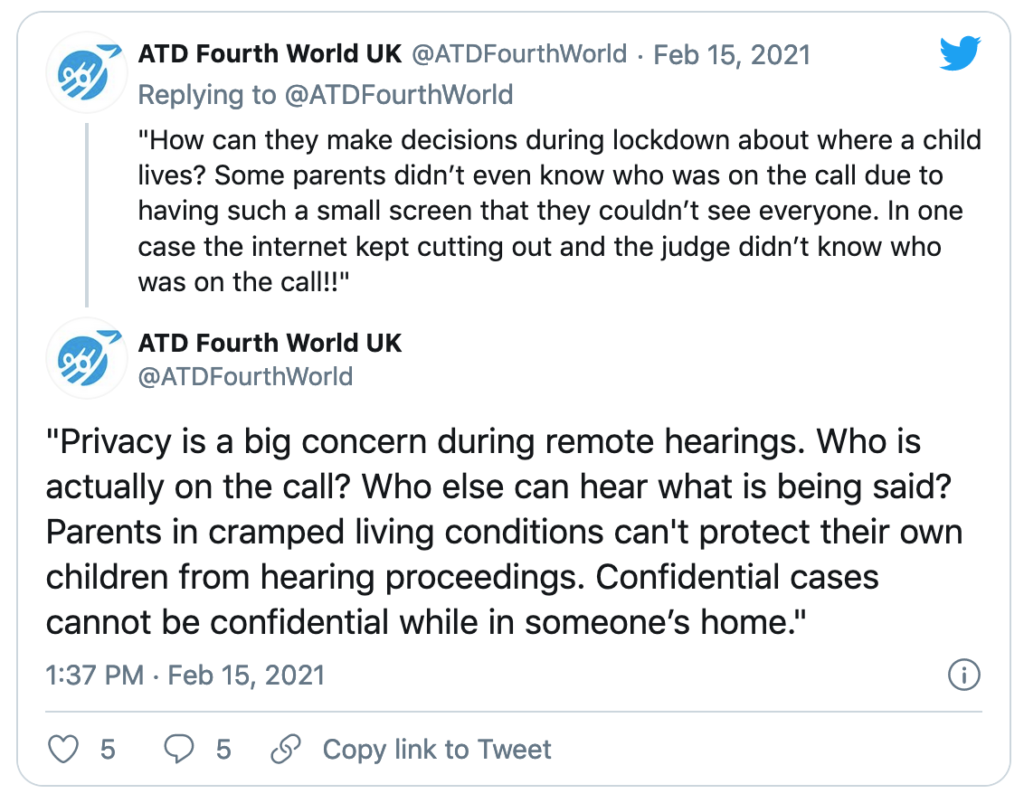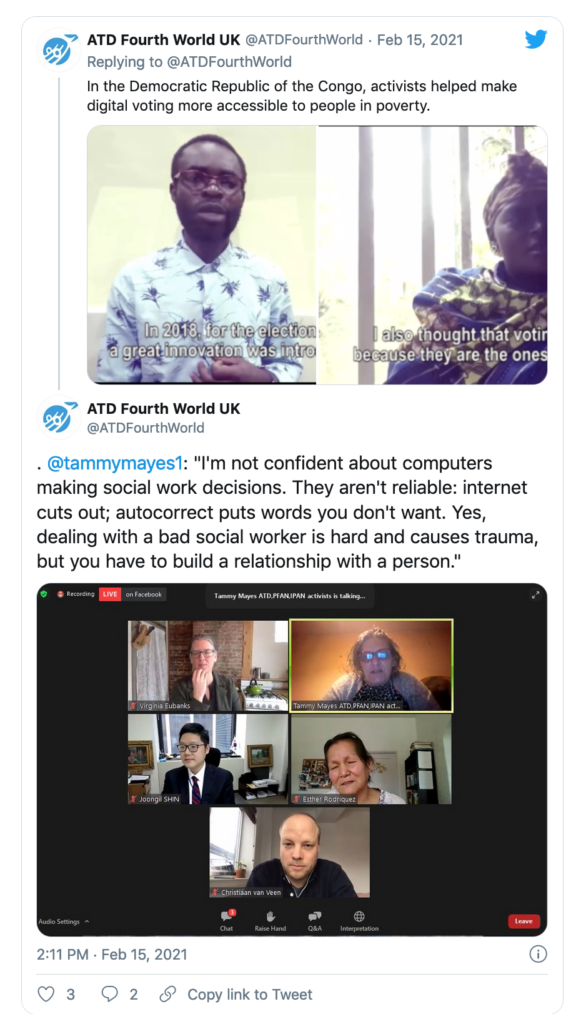 Activists Patrick Lubin, Pascal Poulain, Chantal Vallée, and Doris Mary from France and the U.S. then shared their positive and negative experiences with digital technology through a video:
Echoing the sentiments of Esther and Tammy, Christiaan van Veen, Director of the Digital Welfare State and Human Rights Project at New York University (NYU) noted the confines of much existing digital rights work, which often focuses on the impacts of these technologies on the middle class. The effects of digitizing the welfare state on individuals in poverty are overlooked.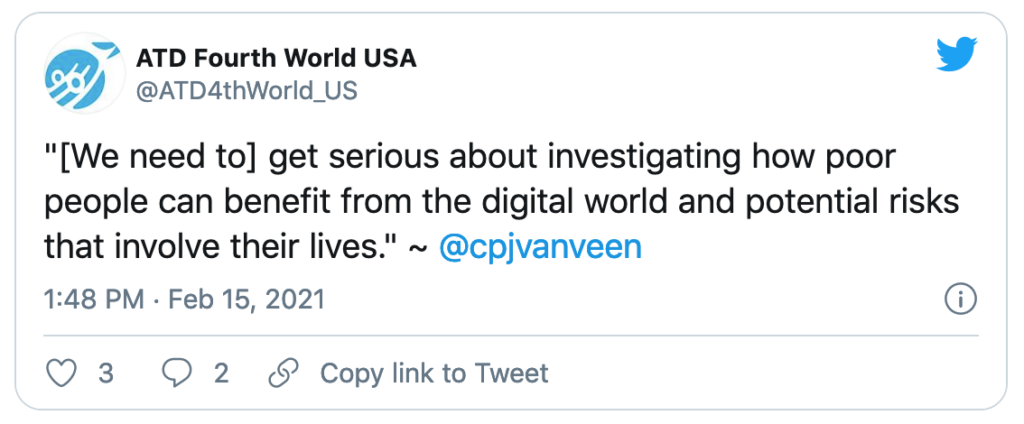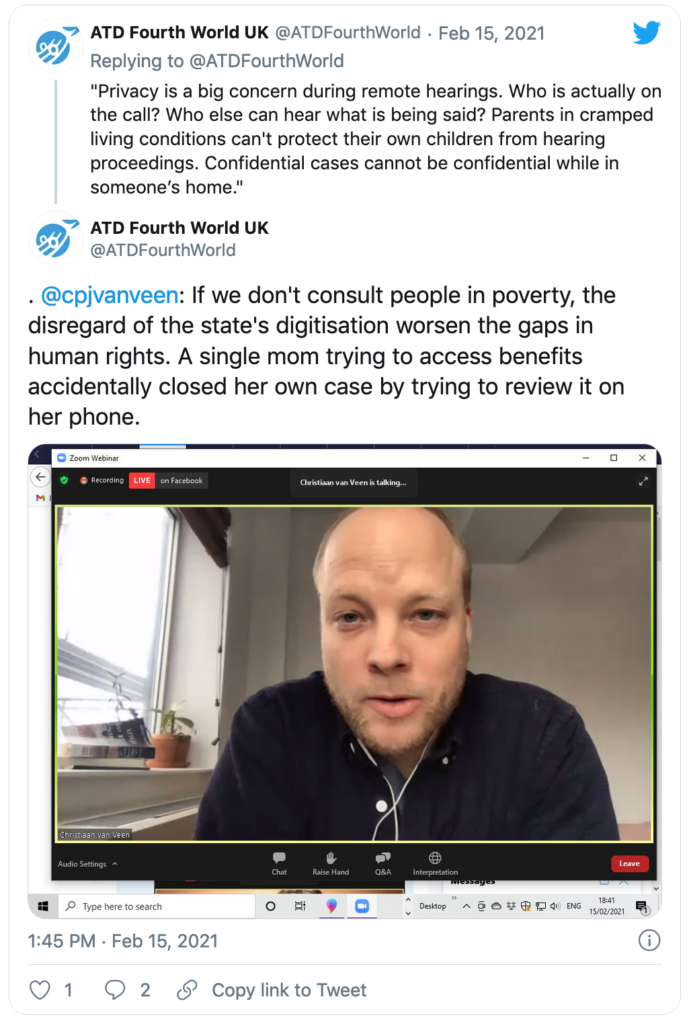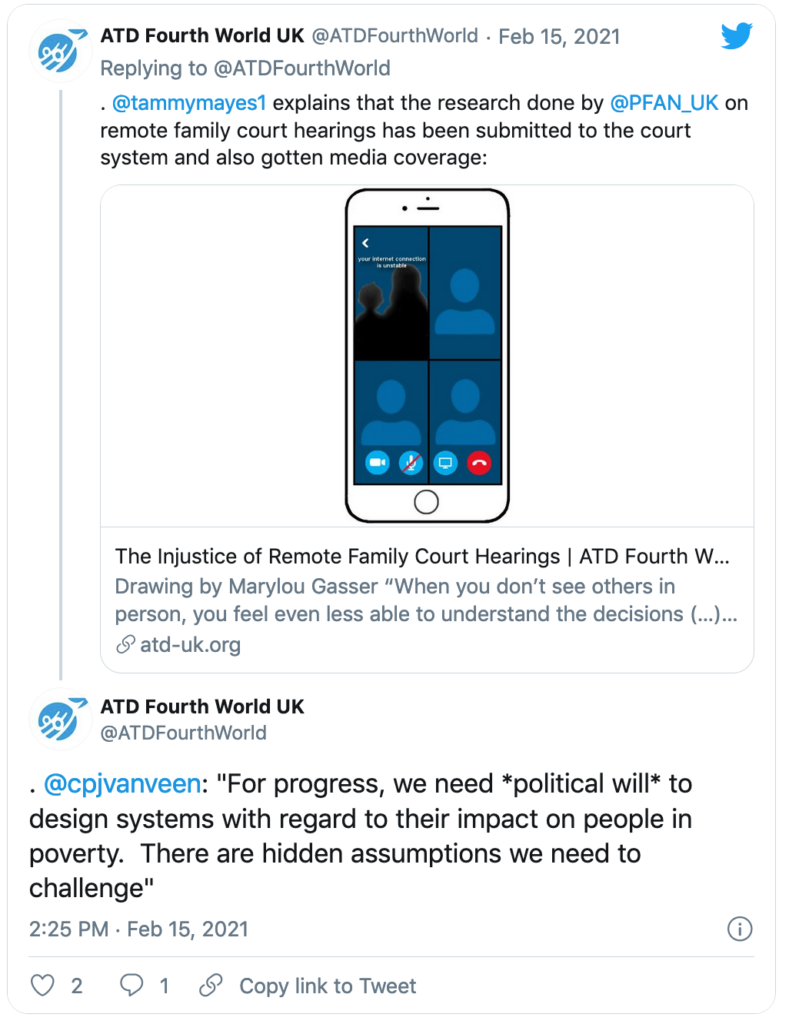 A video showing grassroots experiences with digital voting in the Democratic Republic of Congo was an inspiring reminder of the positive social impact digital technology can have when utilized appropriately.
Following this success story, Mr. Joongil Shin presented South Korea's achievements in bridging the digital divide, accessibility, and digital literacy, through decades of holistic citizen-focused campaigns.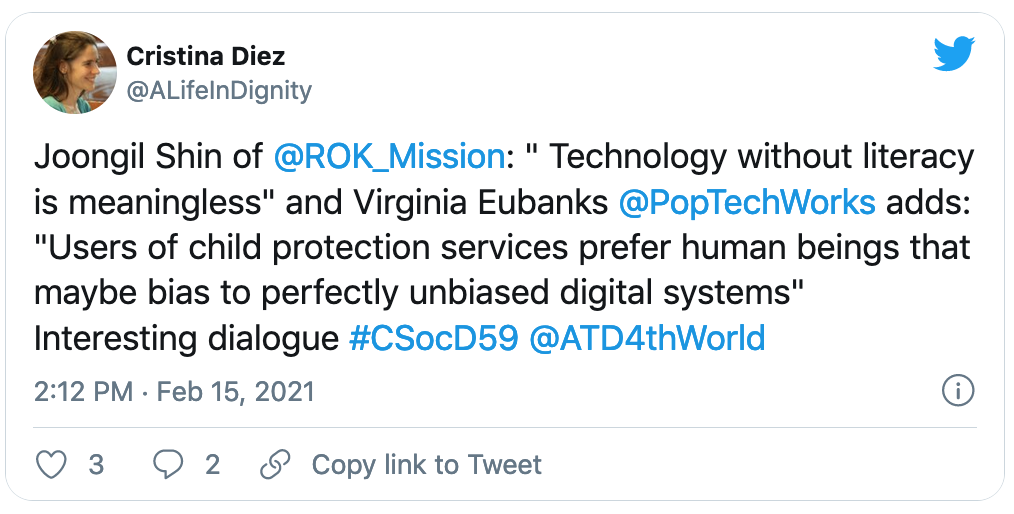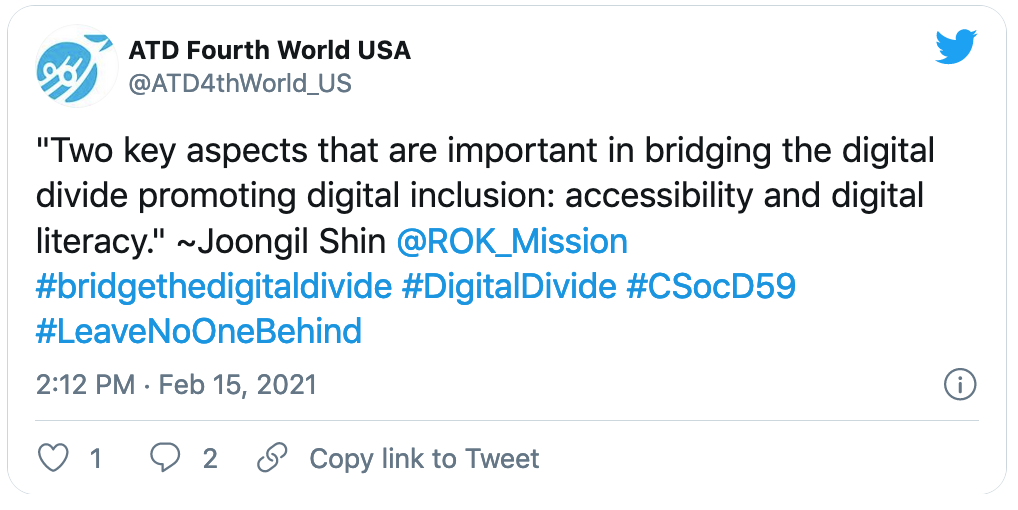 The event closed with a vibrant chat discussion and Q&A from the attendees – many agreeing that the phrase "Nothing About Us Without Us'' was more relevant than ever in the design of digital systems and that the narrative on 'experts' needed to be rewritten.
Others asked how to ensure that people in deep poverty were effectively included in the digital transformation of public services when many were deprived of basic access to electricity, electronic devices or the internet. Additionally, the point was raised that many children lacking birth certificates are unable to go to school or access healthcare. Can digital inclusion then help to give everyone a legal existence? The answer was that obstacles are not only technical but also political – governments need to show political will to truly include all citizens in digital systems.
Responding to the moderator's last question about how to build human systems – either digital or in-person – that are accessible, humanizing and fair, the final words went to Esther who highlighted the importance of sharing information with each other and between organizations and to Tammy, who powerfully emphasized that parent advocacy is the way forward: 'I will always fight for my children, I have done it for twenty years and I will carry on doing it – you cannot keep treating families the way they are treated. It is inhumane, it is against human rights and I will do everything I can to give parents the power to fight against that."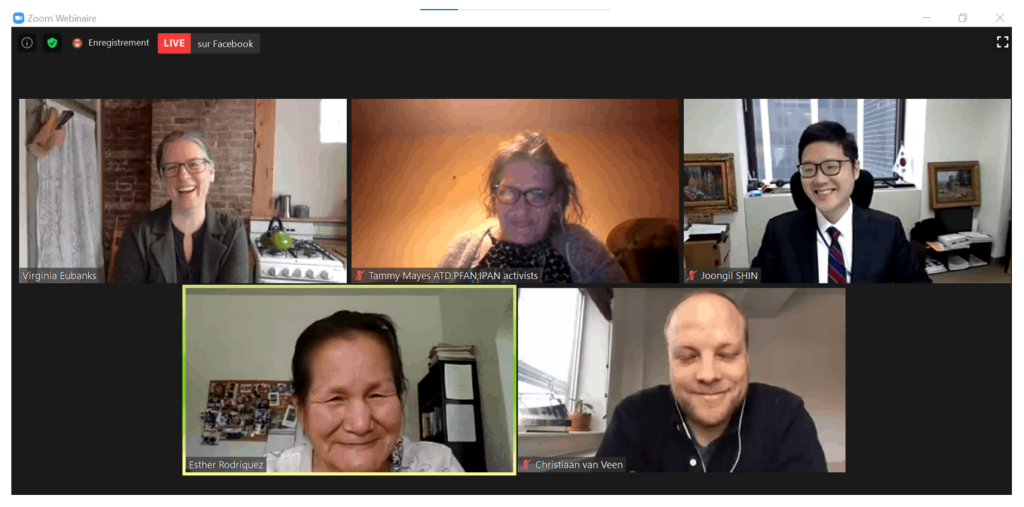 The full video recording is available here.
A detailed report of the side-event is available here:
ENGLISH
FRENCH
Behind the Screen: Grassroots Experiences Accessing Social Services and Education in a Digital World
Previously published on ATD Fourth World's website, here.